Underworld Mod Contest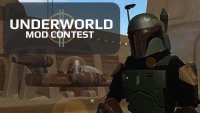 The next contest is upon us in this wretched hive of scum and villainy. If you are new around here, basically we sometimes host modding contests for Jedi Outcast and Academy centered around a specific theme; sometimes a holiday, event, or genre. The ultimate goal of this is to encourage creativity and art in the modding community in a fun way. The ultimate reward is simply more content for everyone to enjoy, but the winner(s) also get a special badge on their profile showing their win. You can see past contests here.
This contest is all about the Star Wars underworld: crime syndicates, gangs, assassins, bounty hunters, scum, villainy, etc. Imagine walking into the Mos Eisley cantina, or landing on Nar Shadaa, or sneaking about the undercity of Coruscant. What would you see, or would you even live to tell about it?
Remember, content has to be for Jedi Outcast or Jedi Academy and must be a mod of some kind: map, model, skin, etc.
Rules:
All submissions must be related the theme stated above. Star Wars Canon or Legends/EU is acceptable.
You can only enter your own creations.
You may team up with another modder. Rewards will be given to all parties.
Any external content you did not make must be explicitly referenced in the description and readme file.
You may enter more than one file.
You may enter files that were created previous to this contest, as long as they were created within the last 12 months.
Any content is welcome, including skins, models, maps, weapons, menu mods, etc.
Files can be for Jedi Academy and/or Jedi Outcast. We will assume files are for JKA unless specified otherwise.
If a large number of mods are submitted, more than one winner may be chosen.
The deadline for submitting content is April 8, 2022, after which a poll will be opened.
The poll will be closed by the morning of April 17, 2022.
How do I submit my mod?
Our goal is to make it as simple as possible for everyone involved. The way you submit your file for this contest is to upload them as normal files in our file section, but using the category called Contest Entries.

Click the button below, and submit your mod as you normally would. The category should be set to Contest Entries already. If you don't enter it there, your file won't be entered until you do. If you realize that you didn't do that, PM a staff member and we can change it for you. Good hunting out there!
EDIT: WINNERS! Click winner button below to see who won!
---
Edited by Circa
Winners!