Reminiscing about Jedi Academy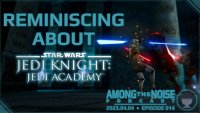 Over the last year, I've been working on building a podcast talking about gaming, movies, tv, etc. It has been a slow process getting a backlog started, while also planning ahead for super cool stuff. Though the podcast and YouTube channel isn't Jedi Academy-specific, since this game is such a big part of my life I can't help but talk about it when I can, especially during it's 20th anniversary year.
This episode I had the privilege of having @Link join me as a guest, and we basically just talk about Jedi Academy, our first memories, jk3files, JKHub, running clans, and how it effected their lives in general. It was a lot of fun, and we'd really appreciate you talking a look.
If you like what you see/hear then consider subscribing to us on YouTube, or on Spotify, or anywhere else that has podcasts, as we do have more Jedi Academy related things planned as this 20th anniversary continues on! Stay tuned!
If you aren't a fan of podcasts or just don't have time, you can also check out the short clip on Reddit to give you a little taste.
Also, if you haven't checked out @Link's video "A love letter to Jedi Academy" - you definitely should!
Thanks to any support and time given, we greatly appreciate it and hope you enjoy.
---
Edited by Circa