Underworld Mod Contest Winners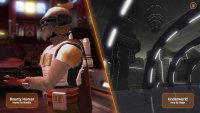 Well this hasn't happened before. We have an exact tie for winner of the Underworld Mod Contest! Instead of finding someone to break the tie, I'm going to be generous and give the win to both @Noodle and @biggs for their amazing mods! It may not feel quite as sweet to you guys to share it, but you both get the shiny new badge that you can show on your forum profile!

---
Noodle's Bounty Hunter is one of the winning mods, and let's just say it was very well deserved. Inspired by an outfit in the game Star Wars: Uprising, this character has quite an intimidating appearance; a figure that would definitely be seen on the payroll of a Hutt or other crimelord. Your modeling skills have come along quite well, my friend!

---
Inspired by Bladerunner, biggs' Underworld map is an impressive stage of dark and mysterious atmosphere and fits in perfect for its namesake. Though its not technically finished, what is done is very well done and I'm sure everyone will agree that we'd love to see it completed!

---
Excellent job to everyone that submitted, and thanks to those that voted. Going forward for contests we will be limited votes to accounts that were created before the poll opens to avoid any fraudulent or padding of votes, just a heads up there.
Remember, just because you didn't win this time, we will have more contests in the future, but the goal of these contests is just to inspire creativity with a twist of a deadline and competition. The ultimate win is getting more mods out there for people to enjoy from talented creators like you!
---
View all entries   Read original news post   View contest poll
---