New themes, 20th Anniversary Mod Contest, and more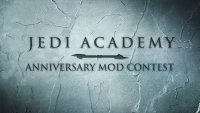 New JK-inspired themes
It's already July! The 20th anniversary of Jedi Academy is upon us, and what better way to celebrate than with a new theme! Actually, there are 3 new themes to choose from: Academy, Academy (Stone), and Outcast. These are inspired by the cover arts of both games while keeping the function of the site the same. You can pick which one you like best or go back to the old theme, the theme picker is in the very bottom of the page. The Academy one has two separate options: default and stone. I took the stone texture from the original cover art and made it the background, but I honestly wasn't a fan of it but I figured there are people that may like it so I made it an option. I think the Outcast one may be my favorite.

---

Anniversay Mod Contest
Keeping the anniversary train going, I figured an anniversary mod contest was in order! Now, this contest's theme is quite broad to many here but hopefully that doesn't stop people from making some cool stuff. The theme is the Jedi Knight series. It doesn't have to be strictly Jedi Academy focused, but any game from the series (Dark Forces, DFII, Mysteries of the Sith, Jedi Outcast, or Academy). This can be related to the story, characters, weapons, vehicles, planets, etc. As long as it adheres to our file submission rules and relates to the JK series, you can submit.
Rules:
All submissions must be Jedi Knight series themed (Dark Forces, Dark Forces II, Mysteries of the Sith, Jedi Outcast, Jedi Academy)
You can only enter your own creations.
You may enter more than one mod.
Already existing files cannot be submitted. The goal is to encourage new creations! This includes updates or fixes for existing mods.
Any mod content is welcome, including skins, models, maps, weapons, menu mods, etc. Just make sure it abides by the rules.
Mods can be for Jedi Academy and/or Jedi Outcast. We will assume mods are for JKA unless specified otherwise.
The deadline for submitting content is September 9, 2023, after which a poll will be opened.
The poll will be closed by the end of day September 16, 2023.
How do I submit my mod?
Our goal is to make it as simple as possible for everyone involved. The way you submit your file for this contest is to upload them as normal files in our file section, but using the category called Contest Entries. After the contest is over, we will move the mods to their respective categories.

Click the button below, and submit your mod as you normally would. The category should be set to Contest Entries already. If you don't enter it there, your file won't be entered until you do. If you realize that you didn't do that, PM a staff member and we can change it for you. Good luck and happy festive season!
Submit to Anniversary Mod Contest
EDIT: VOTE FOR THE SUBMISSIONS HERE
---
Anniversary Server Event
Some people in the community are putting together a day-long event on a Jedi Academy server to get people on a server to play and hang  out and celebrate the game the best way: by playing it. Multiple games and events may take place throughout the day depending on turnout. It will be open door policy, so come and go as you please. Thanks to Makha and friends for getting it organized and planned!
---
20th Anniversary page
We are tracking all of the content and events going on for the 20th anniversary over at jka.gg/20. Many of them are still developing, so keep in mind the page will change as new things happen. You'll notice some thing we've already shared, and some we haven't yet, like the JKHub server.
20th Anniversary of Jedi Academy
That's all for now. I'm still working on getting another developer interview done, but I can't confirm that yet until it happens. If anyone has any ideas for more we can do for the anniversary, or has already done something we can put on the page, or wants to help with the server with events or admin, please let me know!
---
Edited by Circa
Added vote and changed server info