Twenty years of Jedi Academy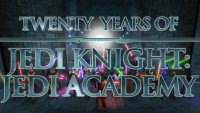 On September 16, 2003, Jedi Knight: Jedi Academy was released to the world and spun off what was loved and adored about its predecessor Jedi Outcast, and taken to the next level in terms of combat, gameplay, and modding capabilities. Two decades later, we are still here, playing and modding this game. Most of us are well into our adult years and only try to find the time to put into this game in some way, but we're here. Some people have left, come back, left again, repeat. Some have left completely, but everyone that has spent time with this game can agree that it is a unique and special experience that deserves celebration and appreciation.
Mod Contest
Over here at JKHub we started the celebration with a new theme, followed by the Anniversary Mod Contest. The goal with this contest was just to let people create content related the Jedi Knight series in general. We had a bunch of amazing mods submitted to the contest. Huge shoutout to @SomaZ @Noodle @WizardMKBK @Kitsu-NeshKaa @Omega1 @Chansta @Joshua for submitting their mods, each one was unique and incredibly crafted. SomaZ took the votes in the poll with his Bespin Duel Reborn mod with rend2 support, which the community voted on, but all entries were awesome. Well done.
To view all entries of that contest, you can watch the below video or check them out yourself.

---
Server Event
Over the weekend, on the 16th, @Makha lead a big Jedi Academy server event that I and a few others helped with. The goal was to just bring people together on a server or two throughout the day, host a TFFA or CTF or other games, but overall just have people FFA and chill. It was a resounding success, we ended up having over 150 people show up throughout the day with the main server fill 32 slots at many times, with some overflow to a second server at some points. There was a TFFA and CTF match on a second server, as well as all guns brawl with NPCs, lots of FFA and private dueling. It was a blast (and exhausting by the end), and we hope everyone that attended had as much fun as we did. There were two group photos taken when the server was full, on FFA3 and FFA4. If you weren't there for these, I'm sorry!


Thank you to all that showed up, even if just for a little bit. The point was to play this amazing game and share a bit of time with fellow fans, no matter how long or little you did so. And an even bigger thank you to all who helped make the whole day happen and run smoothly.
I made a short video below recapping the event (the whole 10 hour stream can be watched here), naming as many people as Makha had written down that attended, thanking attendees and the developers behind making this wonderful game. All the appreciation in the world to them, as we all know making games is not easy, especially with deadlines, and though this game may not be perfect in their eyes, it succeeded in the long term in various ways and I think I can speak for the whole community in saying thank you for what you made, with both Jedi Outcast and Jedi Academy.
---
Reminiscing about Jedi Academy podcast with Circa & Link
Earlier this year, @Link & I celebrated by talking about our Jedi Academy memories and the legacy of the game in a podcast. Our experiences may have been different from yours, but it can be fun to hear other perspectives as you reminisce along with us.
---
Link's love letter to Jedi Academy
Not technically JKHub, but he's part of the ex-staff family, @Link also made his own video diving deep into what he loves about Jedi Academy and how it changed his life in various ways. He really hits the nostalgia spot on with this video, I highly recommend giving it a watch if you haven't yet.
---
Though that's all we have for the anniversary right now, the year is not over, and more may be coming. Until or if that happens, thank you again for everyone that has been with this community, not just Jedi Academy, but JKHub. Our 11 year anniversary was in August, which is just as mindblowing to think it has been that long since this place launched. I know Caelum isn't around anymore but I'm sure a part of him would be proud of what he started and hopefully how it has continued since he left. You all are awesome, and here's to another 20 years!
---
Edited by Circa
Added YouTube link to the 10 hr stream VOD