Kyle Katarn comes to Galaxy of Heroes mobile game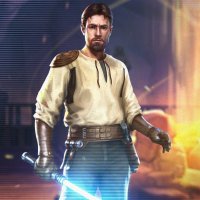 This week EA revealed that Kyle Katarn is coming to their hit mobile game "Star Wars: Galaxy of Heroes" to join that fairly massive roster of not only movie characters, but a slew of Legends characters as well, which is always kind of a shocker due to the nature of Lucasfilm's efforts to keep Legends material out of the public eye for the most part. They now have a big number of character from KOTOR including Revan, Malak, Bastila, and many more.

As someone that knows very little about this game, I will keep the description of Kyle in the game brief. It looks like he is able to fight on a Jedi team as well as a Rebel team, which makes sense considering his history with both. His moves are very reminiscent of come JK2/A moves. Here's a bunch of GIFs to show some of that.



You can read all about this in more detail if you are a player of GoH at the developer forum threads below.
Developer Insight: Kyle Katarn
EA's Star Wars: Galaxy of Heroes is available on iOS and Android for free.
---
This was probably just another article about something 9/10 of you don't care about, but it's one of those things that hopefully makes you go:


---