Banner Artwork Contest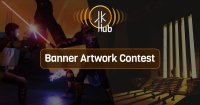 Hey folks, a new contest has been long overdue, I know. I meant to start this one up shortly after the last one but too many things took my attention away. I have way too many hobbies to keep up with.
No summer themed contest this year, but that could be up to you depending on your submission.
Everyone likes mod contests but sometimes it's fun to mix it up and try something different. We have a decent number of in-game photographers, digital artists, and lots of creative people that could make this one really cool.
Essentially this is a contest for who can make the best Jedi Knight-related poster/banner for JKHub. I've been wanting something really nice and flashy looking to use for the front page and for social media accounts, and I made one really quick back when we launched the new theme. I can probably spend a lot more time on making a better one, but I figured it would be much better to involve the community.
This isn't just to win and get the award badge on your profile. This will be the new banner on the front page of JKHub in place of the existing one and will be used on social media.
So what qualifies as a banner?
An image in PNG or PSD format.
Dimensions at minimum 3200px X 2000px with 72ppi (more is okay).
Aspect ratio of 16:10.
If you include text, you must also include a textless version.
If you include a signature, make it unobtrusive but still legible.
Must be related to the Jedi Knight series (particularly Outcast & Academy), including characters, locations, weapons, items, etc.
Multiple entries are allowed.
Additional orientations are allowed, but a horizontal 16:10 is required.
Upload in a ZIP file to ensure no unnecessary compression is added anywhere.
No pornographic or ultra violent subjects or content allowed.
Huge bonus points if you make a version for each major season of the year or holidays.
The deadline to submit is September 24th, 2022. After which we will sort through all submissions over the following days and announce the winner then.
By submitting to this contest, you are fully aware that your art will be used by us, for JKHub. Full credit to you will be given when and where possible.
We also reserve the position to not choose any submissions, or to choose multiple. If none are chosen, you still get an award badge and be featured on the contests page. All submissions will be displayed on a page when the contest concludes.
Need inspiration?
Here's an album full of the kinds of things I'm looking for. Something like a movie poster or something very cinematic-looking. You can take screenshots in-game, post them in ModView, digital paint, Blender, literally anything.
Poster examples and inspirations
How to submit?
You can submit like a normal contest: in the Files section in the Contest Entries category. You can use the button below. You must submit the PNG or PSD file in a ZIP compressed folder file. Include all versions of your work in one zip file. If you are submitting multiple works, please submit them separately. 
EDIT: Results are in! Click below or scroll down to see the submissions and winners!

---
Edited by Circa