The difference between review and comment...and Happy Holidays!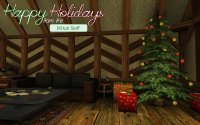 First of all, yes, I made it a little more cozy around here for the holidays. Hopefully that's alright with you. If it's not and you're horrendously offended, you can select the normal theme in the bottom left of the page. For the rest of you, Happy Holidays! 
 We added a tag for "holiday" themed mods, including winter themed ones so it's easy to find them. Take a look at the list here. If you find one that isn't on this list, report and we'll get that tag added.
Secondly, I wanted to discuss a small change we made to the file section. Though it's simple, I think I need to specify the reasoning and guidelines for it.
In the past, reviews and comments were basically the same thing, with ratings being completely separate. Now since JKHub 2.0, reviews and ratings are one in the same, while comments exist as its own thing. This has created some confusion by some people, and misuse by others. Reviews and comments are quite different, and are exactly what they sound like they should be now, rather than the convoluted mess they were before.
From now on, we will be requiring downloads for reviews to be written. All reviews will be moderated before being approved and displayed. That means you can't just look at the screenshots and decide it's a 5 star mod, or at least not completely. We highly recommend playing or using a mod/file before you bother giving it a review. If you want to give some simple praise or reaction, the comment section is perfect for that. This has been reverted after a year of nearly 0 reviews being written. Read more.
This does not mean you have to write an entire 3 paragraph analysis of the mod. It just means you need to actually put some thought and depth into your review. Did you rate it 5 stars? Why? Only 3? What can be improved?
What is a review?
Yes, I'm getting this particular.
A review IS
an assessment of the content of a mod
a descriptive and well written sentence or paragraph or more
a constructive collection of criticisms and/or praises according to your subjective opinion and experience using/playing the mod.
A review is NOT
a one or two word reaction
a simple impression from glancing at the screenshots
a request for help or support with the mod/file
A comment IS
a short reaction
a support question asking for help with the mod/file
basically anything that isn't on the list below
A comment is NOT
a review, obviously
a spam post
a advertisement for a similar mod with the intent to draw people away
Hopefully this will encourage people to use the mod before giving it a perfect rating, but also avoid spamming the review section with one or two word reactions, instead of well-thought out reviews that help others know more about how the mod is and if it's something they'd be interested in taking the time trying out.
---
Upcoming contest
In other news, we won't have a contest for the end of the year, which I know is a bummer to some. We will have on at the start of the new year though, to tie into Book of Boba, so get hyped for that, and you can even get started if you wanted to. The theme will be Star Wars Underworld: Scum, villainy, bounty hunters, Hutts, crime syndicates, the worst sleemos you can think of. Feel free to start planning your entries!  

---
We hope y'all have a great holiday season!

---
Edited by Circa
Reverted review policy.