Physical bundles for console versions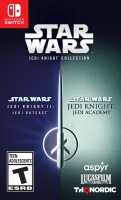 Today, Aspyr Media announced two new bundles they are releasing in physical form for Nintendo Switch and PlayStation 4: the Jedi Knight Collection (Jedi Outcast and Academy) and the Racer and Commando Combo (Star Wars Racer and Republic Commando). This is a partnership with THQ Nordic, which I assume is for the physical media production and distribution portion. This comes over a year and a half after Jedi Academy released on Switch and PS4 digitally, and two years after Outcast.
It's worth emphasizing that this is a physical release only, since they were digital only before. Bundling these games together was no doubt a way to save costs which will hopefully reflect on the price for the consumer, but no price has been revealed as of this writing.
Earlier last year there was a physical release of 3 of these games courtesy of Limited Run Games which let you choose PC, Switch, or PS4 as your platform, but that was of course just a limited run meant for collectors. I showed those off in a post here if you are interested in that. This new release is much different though, with the intention to make these games more accessible and available to those that prefer physical media or want to save some money by getting them bundled.
It also might be worth pointing out once again that the Xbox is left out because they did not gain the publishing rights to the Xbox version. Many people assume this is due to Microsoft wanting the backwards compatible version of Jedi Academy to be the only version in their store, however Jedi Outcast is still not backwards compatible on Xbox One/Series X|S, so it's still unclear the exact reason. Perhaps it will come in the future but right now if you are an Xbox-only player, you'll have to stick with the original Xbox releases. The benefit is all original Xbox games run at 1080p or sometimes even 4K upscaled through backwards compatibility on Xbox One X or Series X, so they run and look pretty darn good.
Once these bundles are released we will update this article with links to buy. Existing digital links are below and some are affiliate links, which helps us keep the lights on here. You can also donate to us any time at this link.
Jedi Outcast for Nintendo Switch (Digital)
Jedi Outcast for PS4 (Digital)
Jedi Academy for Nintendo Switch (Digital)
Jedi Academy for PS4 (Digital)
Jedi Academy for original Xbox (Physical) [Backwards Compatible with Xbox One and Series]
---