Jedi Outcast comes to Xbox Backwards Compatibility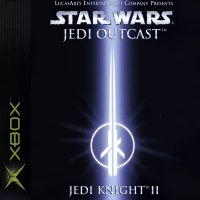 This doesn't really pertain to our core community here, since the majority of you are PC players, but this is some welcome news. Yesterday Microsoft relaunched their backwards compatibility program with a whopping 70 new titles after putting it on hold during the Series X|S transition. One of the first games on the list is our beloved Jedi Knight II: Jedi Outcast. This is particularly important because Jedi Academy was already backwards compatible, but also that both games got re-released on PS4 and Switch and were left out on Xbox. It was assumed it was due to Jedi Outcast being added to backwards compatibility later down the line but we had no proof of this.
Remember that backwards compatible titles do not support online multiplayer anymore, since those original Xbox Live servers were shut down years ago. However one advantage over the other recent platform ports is this does have local splitscreen multiplayer, which was a feature skipped over when Aspyr ported them to PS4 and Switch recently. One of the biggest benefits to consoles is couch co-op or competition, so at least Xbox versions will still have that experience.
It's also worth noting that Starfighter, ROTS the game, and The Clone Wars (not based on the animated show) games are on the list as well.
You can buy Jedi Outcast digitally directly on the Xbox store here or you can attempt to find a physical copy of the original Xbox game at third party stores like eBay or Amazon.

---