Jedi Betrayal
Jump to navigation
Jump to search
Jedi Betrayal was a fan-made sequel to the un-canon ending of the JKA dark side storyline. The mod was dubbed "JKB", rather than "JK4", to avoid any arguments regarding JKA's nomenclature. The mod utilizes the single player portion of the game to create entirely new missions and scenarios. The mod was in production by Jumansoft.
Development
[
edit
]
Plot Premise
[
edit
]
The mod follows the JKO protagonist, Kyle Katarn, as he tracks down his failed student, Jaden Korr. Enraged by Jaden's betrayal and the death of Rosh Penin, Kyle must stop Jaden from using the Scepter of Ragnos against the galaxy before it's too late.
Background
[
edit
]
The project was originally started by Snipeye on the Gamefront Modding Forums. Since most sequel projects around that time had bore no fruit, the Gamefront community criticized Snipeye's plan as another attempt doomed to per-mature failure. However, he was able to rally some modders to his cause, and work soon began on what would become Jedi Betrayal.
From here, the small team of modding pioneers were forced to tackle every aspect of the mod by themseleves. One of the primary concerns of the team was whether or not to use the existing single player engine or use a heavily modded multiplayer engine. The team elected to create the game on the single player portion of the game, but the controversy left many modders wondering why multiplayer was even considered.
Meanwhile, full-fledged development had began. The main obstacle the new team faced was writing a viable script for the mod. After many attempts and finally rewriting the current draft, the team finalized the storyline. At this point, Jedi Betrayal received many new team members through advertising on various mediums, such as Moddb. Up until this point, the development of the mod had been completely contained on a forum hosted by "atlanteangaming", which is now unavailable. The team realized that a website was desperately needed, and after loads of work, a website heavily embedded with catchy flash elements was released.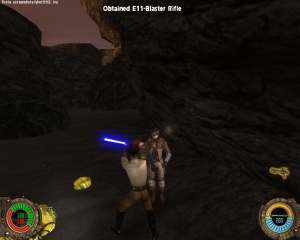 Unfortunately, real-life conflicts arose and pushed back the release of the mod's first level, which is the demo. while development slowly continued, many team members though the website was not professional enough for a mod of Jedi Betrayal's scope. From here, acting mod directors JasonBlack and Darth Arth created the current website, JediBetrayal.com. After the unveiling of JediBetrayal.com occurred, the mod received a spike of interest, which also lead to a faster development pace. The team also received many new team members, like the prominent modder AshuraDX. The team commissioned AshuraDX to create a Selkath model to be used in the mod, and has now been released. However, development has once again been stalled by numerous real-life commitments and the retiring of many senior team members, like Syko.
Features
[
edit
]
The mod promises an exciting single player campaign full of new features. Here are some of the features listed on JediBetrayal.com:
"
Jedi Betrayal will include a blend of old and new features that will significantly enhance the player's experience. Upon release, you can expect:
A revamped weapons arsenal including some completely new weapons as well as some old favorites.
10 Locations, including a grand total of 24 levels.
Similar to Jedi Academy, it will include a Dark side-Light Side ending that is determined by your choices in the game.
New textures, shaders, and models and skins.An all-new story, including a cast of new characters and new enemies.A fully voiced cast of characters, including enemies and minor NPCs.
" - JediBetrayal.com
Official Releases
[
edit
]
The team has released numerous screenshots of development progress. Many of them depict the various locations the mod is set in, while others include concepts for characters. The only official release so far has been the Selkath model mentioned above.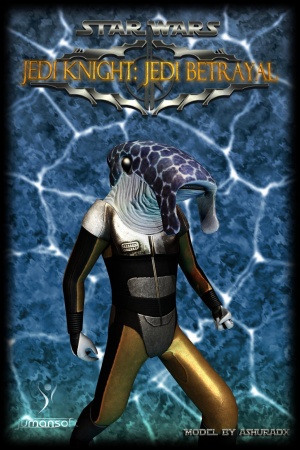 Naming Controversy
[
edit
]
The mod has also spawned the "JK3/JK4" naming controversy. Many users argue that JKA is never called "JK3" and is simply an expansion of JKO. However, Snipeye originally called the mod "JK4", implying that JKA was "JK3". To avoid further conflicts, the team has dubbed their mod "JKB".
Team Members
[
edit
]
Active Members
[
edit
]
(from JediBetrayal.com)
| Member | Role |
| --- | --- |
| JasonBlack | Acting mod director, environment artist, and level designer |
| Darth Arth | Co-director and site admin |
| KillerTruffle | Chief editor and lead voice actor |
| Maddin | Head of level design, effects artist and technical artist |
| Adhriva | Art director and level design consultant |
| Darth_Ispum | Level designer |
| User:Lazarus | Shader genius and level designer |
| Garyn Dakari | Lead character animator, and public releations |
| Darth_Bothersome | Level designer |
| jedi_hm2 | Model skinner and texture artist |
| serenity937 | Coding genius |
| therfiles | Level designer, EFX and UI artist |
| Mr.Zz | Texture and concept artist |
| Movian | Voice actor |
| Darth Monkeyman | Model skinner |
| AshuraDX | Character modeller |
| BerZerK | Voice actor |
Retired Members
[
edit
]
Members that have retired are: Snipeye, afiNity, eezstreet and Syko.
External Links
[
edit
]