JK3Files
Jump to navigation
Jump to search
JK3Files (also known as JK2Files, Jedi Academy Files, or simply JKFiles) was a Jedi Academy modding website owned and maintained by Gamefront. Once the apex of the Jedi Academy modding community, the site had declined in recent years due in part to Jedi Academy's age but also to an increase in errors across the website.
History
[
edit
]
From 2004 to 2009, the website saw a massive amount of traffic, and files were being uploaded on an almost daily basis. From 2009 onward however, the site began to decline in wake of Jedi Academy showing its age. Where once it was not uncommon for a typical mod to achieve 1000 or more downloads, typical mods now achieved a mere several hundred downloads. In 2013 it would have been very hard pressed for a good mod to surpass 100 downloads due to extremely low site activity. The once bustling forums remain empty as of January 2014.
In July 2015, the site was permanently shut down with all existing mods on the site deleted.
JK3Files hosts a wide variety of mods for both Jedi Outcast and Jedi Academy, including, from their mod categories list:
Maps
Media
Models
Official Releases
Scripts and Binds
Skins
Utilities
Acquisition by Break Media
[
edit
]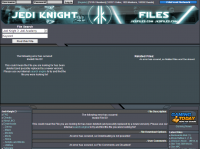 On February 11, 2010, Break Media acquired Filefront and JK3files subsequently. On November 30, 2010, FileFront was renamed GameFront. Soon after this acquisition, advertising on JK3Files increased significantly. In March 2011, a severe bug which kept new mods from being posted occured. Several months later, this bug was fixed, however, numerous "Invalid File ID" error messages continued to plague the website.
External Links
[
edit
]