Blaster Rifle
Jump to navigation
Jump to search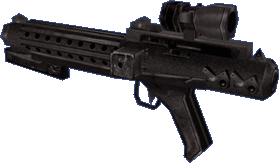 The primary weapon of the Imperial forces, the E-11 is a sturdy and deadly blaster rifle capable of inflicting damage despite it's small size. The E-11's compact design makes it easy to carry and conceal.
Primary fire - Slow, single shot with moderate accuracy and great damage.
Secondary fire - Rapid, burst fire with low accuracy and expanded firing area.
Damage and function times
Shot type
Projectile
Ammo type
Blaster pack
Ammo per shot
2/3
Damage
Damage
20
Headshot damage
26
DPS
57
Headshot DPS
74
Sec. DPS
130
Sec. headshot DPS
173
Function times
Attacks per second
2,85
Sec. attacks per second
6,66
Gallery
[
edit
]