JKHub:About
Jump to navigation
Jump to search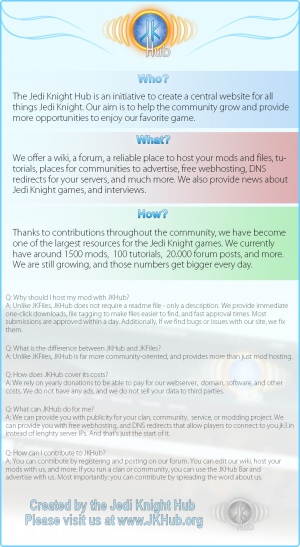 Jedi Knight
The Jedi Knight series was launched in 1995 with the release of Star Wars: Dark Forces for DOS, Apple Macintosh, and the Sony PlayStation. The game was generally well received, selling over 120.000 copies. A sequel soon followed: Dark Forces 2, as well as its expansion, Mysteries of the Sith. Arguably, modern-day gameplay of the series was largely shaped by the next game: Jedi Outcast, which featured Kyle Katarn as protagonist, much like the previous games. Like its predecessor, the latest game in the series - Jedi Knight: Jedi Academy - was developed by Raven Software. It was published by LucasArts and Activision, and featured smaller changes than previous versions, such as graphical improvements. It was also the first game in the series where the player did not take on the role of Kyle Katarn.
JKHub
Since our launch on the 24th of August 2012, the Jedi Knight Hub has endeavored to be the number one place for all things related to Jedi Knight: Jedi Academy, Jedi Knight: Jedi Outcast, and its respective communities. We provide a large number of services, including reliable mod hosting, DNS redirects, free webhosting, a forum to discuss the game, places for clans to advertise, and much more. Our focus lies with Jedi Knight: Jedi Academy, but we support both games.
The staff
The Jedi Knight Hub is staffed exclusively by volunteers: players who contribute time and money to ensure the hub's continued existence. A full list of staff members can be found here.
Contact
If you have any questions about us, believe you can contribute in any manner, or would like to leave some feedback, please do not be afraid to contact us! We try our best to respond to everyone who does so.